Skip to Content
Houston Colon Surgeon Lectured at Annual Ascrs Meeting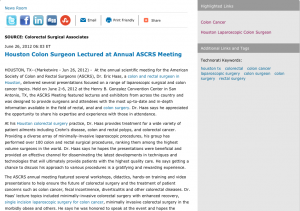 Houston, TX — At the annual scientific meeting for the American Society of Colon and Rectal Surgeons (ASCRS), Dr. Eric Haas, a colon and rectal surgeon in Houston, delivered several presentations focused on a range of laparoscopic surgical and colon cancer topics. Held on June 2-6, 2012 at the Henry B. Gonzalez Convention Center in San Antonio, TX, the ASCRS Meeting featured lectures and exhibitors from across the country and was designed to provide surgeons and attendees with the most up-to-date and in-depth information available in the field of rectal, anal and colon surgery. Dr. Haas says he appreciated the opportunity to share his expertise and experience with those in attendance.
At his Houston colorectal surgery practice, Dr. Haas provides treatment for a wide variety of patient ailments including Crohn's disease, colon, and rectal polyps, and colorectal cancer. Providing a diverse array of minimally-invasive laparoscopic procedures, his group has performed over 100 colon and rectal surgical procedures, ranking them among the highest volume surgeons in the world. Dr. Haas says he hopes the presentations were beneficial and provided an effective channel for disseminating the latest developments in techniques and technologies that will ultimately provide patients with the highest quality care. He says getting a chance to discuss his approach to various procedures is a gratifying and rewarding experience.
The ASCRS annual meeting featured several workshops, didactics, hands-on training, and video presentations to help ensure the future of colorectal surgery and the treatment of patient concerns such as colon cancer, fecal incontinence, diverticulitis, and other colorectal diseases. Dr. Haas' lecture topics included minimally-invasive colorectal surgery with enhanced recovery, single incision laparoscopic surgery for colon cancer, minimally invasive colorectal surgery in the morbidly obese, and others. He says he was honored to speak at the event and hopes the discussion will promote the continued pursuit of safer, more effective techniques in performing colorectal surgery.
Following the meeting, Dr. Haas says he plans to continue encouraging all patients to take the time to conduct extensive research on their procedure before settling on a practice. He says educated patients and surgeons will be able to achieve the safest, most successful results. Dr. Haas adds that ensuring one's colorectal surgeon is board-certified and participates in regular continued education will help patients achieve a positive outcome with the least risk of future complications.
About Eric Haas, MD, FACS, FASCRS
Dr. Eric Haas is the Chief of Division of Colon and Rectal Surgery and Director of Clinical Research and Quality Outcomes at University General Hospital. He earned his medical degree from the University of Texas Medical School at Houston and completed a general surgery residency at St. Joseph Hospital as well as a fellowship training in Colon and Rectal Surgery at the University of Texas Medical School Fellowship Program. Double board-certified by the American Board of Colon and Rectal Surgery and the American Board of Surgery, Dr. Haas is a Fellow of the American College of Surgeons and the Program Director of the Minimally Invasive Colon and Rectal Surgery Fellowship Program at the University of Texas Medical School.
Dr. Haas' practice has three locations: 7900 Fannin, Suite 2700 in Houston, TX; 16605 Southwest Freeway Suite 430 in Sugar Land, TX; and 11914 Astoria Blvd Suite 320 in Houston, TX all reachable at (713) 790-0600. He can also be contacted online via the websites drerichaas.com, houstoncolon.com, pelvichealthcenter.com, or the Dr. Eric Haas Facebook page.
Board-Certified Surgeons Specializing in Colon and Rectal Surgery