Skip to Content
Colon and Rectal Surgical Specialists in Houston, TX
Houston Colon is a team of colon and rectal surgeons focused on providing advanced surgical care for patients in the Houston, TX area. We use advanced technology to provide safer and less invasive surgical techniques than traditional open surgery methods. We put patient safety first while performing surgery in our comfortable and sterile state-of-the-art medical center.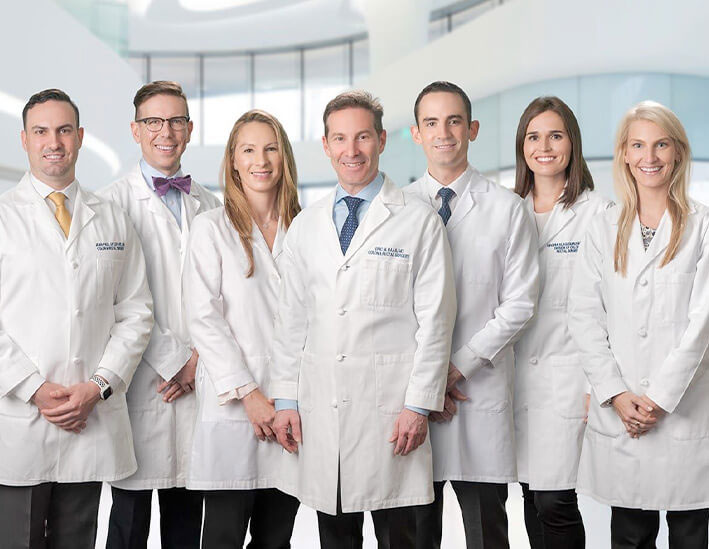 Our Areas of Expertise
We want our patients to live happy and healthy lives and strive to offer the best services to achieve those results. We specialize in robotic, laparoscopic, and other minimally invasive surgical techniques that provide a faster recovery time, reduced chances for infection and bleeding, and little to no scarring. Our area of expertise is in colon and rectal care with procedures that treat:
Colon & Rectal Cancer
Diverticulitis
Hemorrhoids
Perirectal Abscess
Anal Fistula & Fissures
Pilonidal Disease
Fecal Incontinence
Severe Constipation
Crohn's Disease
Ulcerative Colitis
Repair Incisional and Ventral Hernia
Repair Parastomal Hernia
Why Choose Houston Colon?
For more than two decades, our qualified team has provided care to thousands of patients in the Houston, TX area. We are the premier colorectal surgical team in the region and are widely known for our best practices and safe outcomes for patients. Our staff is internationally recognized for our breakthroughs in surgery. Patients from all over the world come to us for the most complex surgical procedures when nothing else they've tried has worked. We offer:
Double Board-Certified Surgeons
Our surgeons are experts in colon and rectal surgery.
Robotic Surgery Specialists
We are some of the most experienced robotic surgeons in the world, performing more than any other surgical center.
Enhanced Recovery Time
Less invasive surgery means faster and safer recovery to get back to day-to-day life.
Compassionate Care
We understand patients are experiencing an uncomfortable and challenging time. We work hard to provide a safe, clean, and comfortable environment for patients and families.
Meet With Our Team of Specialists
Are you looking for treatment for colon and rectal problems and don't know where to start? At Houston Colon, we specialize in this area by providing innovative surgeries that cause minimum disruption in the lives of our patients and promote quick recoveries and minimal complications. To learn more about our surgical options in Houston, TX, contact our team of specialists today.
Board-Certified Surgeons Specializing in Colon and Rectal Surgery